Traveling offers some of the most memorable memories and experiences, but the expenses associated with travel prevent many from making the trip. If money is the only issue, India provides many affordable destinations.
South India constitutes the states Kerala, Tamil Nadu, Andhra Pradesh, Telangana, and Karnataka. It has a variety of low budget tourist places in South India including hill stations to beaches and wildlife safaris to city vacations. Here's a look at some travel destinations that are located in South India that you can visit on a budget. Even with the lower costs, these locations have plenty to provide.
List of 10 Low Budget Tourist Places in South India
In this post, we have listed 10 low budget tourist places in South India with their best accommodation options as well as the best time to plan a visit to these destinations.
1.Chikmagalur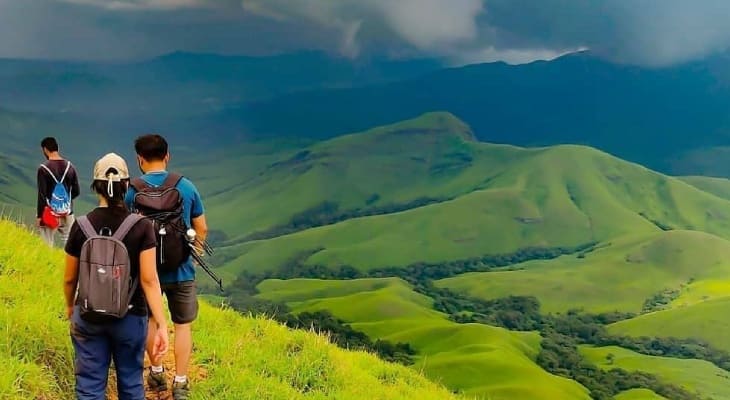 Chikmagalur is a beautiful vacation spot, is located within Chikmagalur is located in the Western Ghats and is known as part of the stunning Malanda. The most appealing thing is that this wonderful travel destination is attainable on an extremely tight budget. There are many public transport options in Karnataka for travel to Chikmagalur. Chikmagalur is one of the visited destinations for nature lovers, trekkers as well as thrill-seekers, and adventurers.
Best time to Visit: The ideal season to travel to Chikmagalur is between October until March, which is the winter months. With pleasant weather all through all year long, beginning in the season of monsoons (Early July) is also a suitable opportunity to travel to Chikamagalur.
Places to Stay in Chikmagalur
Coffee Bean Homestay: The property is surrounded by greenery and hills. Amid cheap homestays located in Chikmagalur, Coffee Bean offers bedrooms that have a balcony with a view of stunning sunrises and sunsets, amazing views, and a fireplace in the courtyard.
Nature Craft: The resort is located in coffee and pepper plantations. Clean and hygienic inside, Nature Craft serves delicious Chikmagalur home-cooked meals and free breakfast. One of the top and affordable homestay available within Chikmagalur.
Tusker Trail: Tusker Trail is surrounded by lush greenery, a refreshing breeze, birdsong, and a serene lake. Tusker Trail is a budget homestay located in Chikmagalur near the most popular Chikmagalur tourist attractions such as Badhra Wildlife sanctuary, Mullayanagiri, Bababudengiri Hills, Kalhattigiri Falls, Kemmangundi, and Hebbe Falls.
Yelagudgi Homestay: Yelagudgi Homestay offers a comfortable and warm place to stay located in Chikmagalur. The hotel offers privacy for guests and provides clean and spacious rooms. The homestay provides outdoor and indoor games, night campfires as well as plantation walks, and tasty meals at affordable prices.
2.Hampi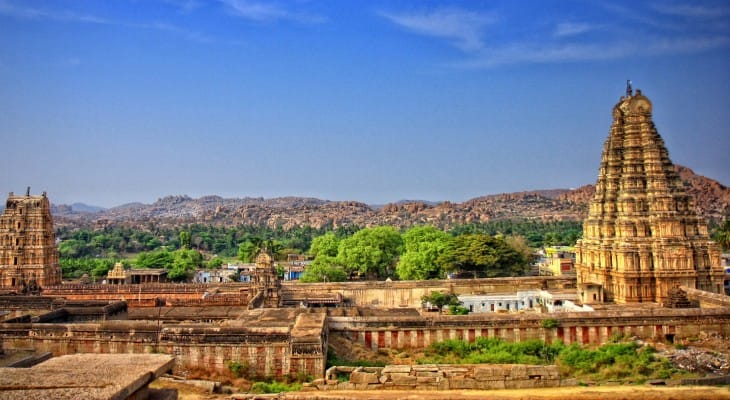 One of Karnataka's most famous gems, Hampi is full of beauty and tranquility. Hampi has proven itself as one of the most exciting places to visit in Karnataka. It draws a variety of adventure-seekers and architecture lovers, as well as offbeat travelers, and even devotees from all over the world. Whatever you pick Hampi to do it will always live up to your goals and will not fail you!
Best time to Visit: The best timing to go to Hampi is during winter, between October and February. The summer months bring record-breaking high temperatures. Therefore, the months of March through June are an unsuitable time to go. Monsoons bring average, but irregular rainfall, keeping temperatures slightly low, but still humid.
Places to stay in Hampi
Hampi Jungle Tree: Hampi Jungle Tree offers you the most genuine experience possible when you stay in a homestay in Hampi. It provides a deep insight into the life of the people living in the rural regions of the countryside.
Hotel Clarks Inn: The hotel is located just opposite the Archaeological Survey of India museum which houses many amazing archaeological finds in the area. Stay in spacious rooms with private bathrooms, modern amenities as well as an indoor pool. The staff is very friendly and will provide valuable assistance throughout your stay.
Nargila Guest House: Located on Hippie Island where you can relax in the lush green paddy fields as well as the surreal rock-strewn landscapes. Nargila is among the top areas for a stay-in in Hampi because of its adorable colorful and inexpensive lodges, as well as a relaxing multi-cuisine restaurant with views of the river that runs back towards the temple.
Heritage Resort: This beautiful and spacious resort features Vijayanagara-inspired architecture, sculptures as well as an organic farm, and lush, fragrant gardens. The resort has a beautiful outdoor area, along with a spa and wellness center. It is a fantastic location to stay in while visiting the sites of the ancient ruins, which are only a few kilometers the sites of the ancient ruins distant from the hotel.
3.Gokarna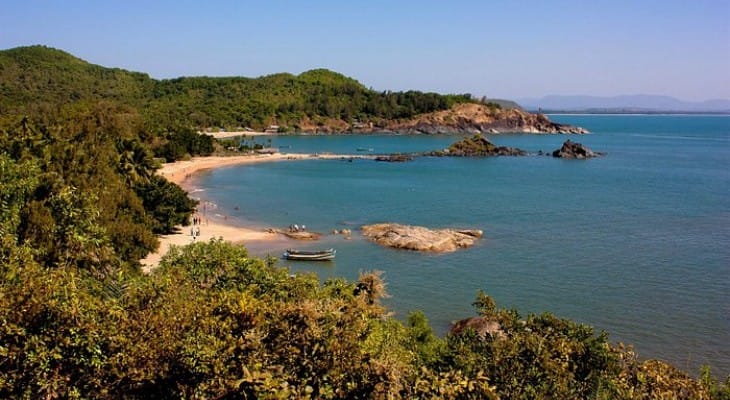 The rural look in the village has drawn the attention of a large number of tourists and foreigners. There are numerous beaches, attractions for pilgrims, and waterfalls that are echoing tourist destinations. In reality, the town is located around the River Aghanashini, which is thought to be a holy place for devotees. In addition to beaches, there is also the Mahabaleshwar Temple, which is a magnet for many saints and devotees.
Best time to Visit: The best time to go to Gokarna will be between October to March when humidity is at the minimum. From November to February, Gokarna is busy with a large number of foreigners.
Places to stay in Gokarna
Namaste Sanjeevini: There's a variety of topography in this resort, whether you're looking to climb the hill or relax on the beach. The resort has spacious and well-decorated rooms and cottages available, and some of them also come with views at Kudle Beach. Yoga is an integral part of Namaste Sanjeevini The huge deck beneath the tree is exclusive and very peaceful.
Lotus Beach Resort: One of the top Gokarna hotels, Lotus Resorts with its orange-hued interior, creates a rugged ambiance all around. The property is situated near the Arabian Sea and the Western Ghats and has 8 cottages with spacious rooms that are well-equipped.
OmBodhi Retreat: It is the ideal place to stay for those who love nature and want a budget-friendly hotel. The rooms here are large and comfortable. You can also choose the gardens or beach view cottages. The comfortable accommodation is surrounded by lush green surroundings.
Honey Beach Resort: The resort is situated on a cliff and is considered to be among the top Gokarna resorts for corporate and honeymooners as the resort offers customized packages specifically for these segments. This is a truly laid-back hotel where luxury is not sacrificed on. When you are staying at a pristine beach, your bond with nature will become stronger.
4.Kodaikanal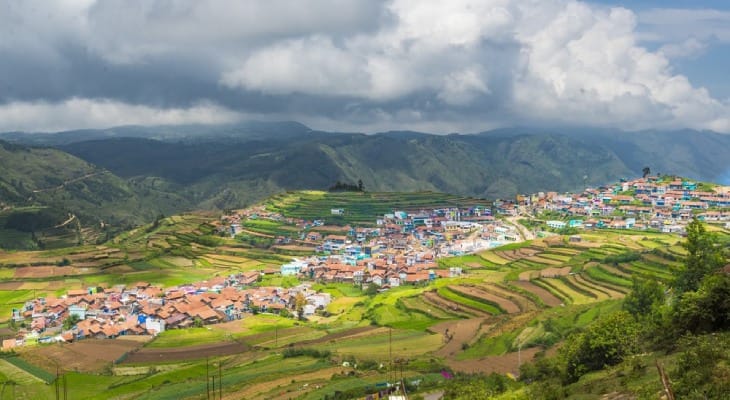 Kodaikanal is the queen of hill stations, is mostly recognized as a honeymoon spot in India. It is the most appropriate and stunning location in south India due to its stunning beauty that leaves tourists awed by unforgettable experiences. The significance of tourist destinations within Kodaikanal is the bounty of the forest. It includes a dense forest, with a huge range of trees, breathtaking waterfalls, and massive rock formations.
Best time to visit: The ideal timing to travel to Kodaikanal is between October and June, but the weather can be cold in January and December. Kodaikanal is the most colorful in summer, and also the most stunning during monsoons.
Places to stay in Kodaikanal
Hill Country Kodaikanal: It's among the luxurious hotels and resorts located in Kodaikanal and is situated within an idyllic landscape sprawled across vast stretches of lush green landscape. The luxurious property is equipped with all modern amenities, two eateries, a filled bar, a recreation center with spa facilities, and an Ayurvedic center.
Kodai Holidays: The place provides the highest hospitality, creating pleasant memories to be relived. They provide delicious food and quick service, in a safe environment and, above all, at an affordable price package. They have cottages that are divided into rooms and suites that can accommodate couples, large and small families, and students groups (dormitory) as well as a corporate group.
The Fern Creek: Fern Creek, with its exotic and captivating ambiance, is designed with elements of luxury. It also features a restaurant that serves various food options as well as a spa, that is the Balinese Spa, in which you can experience the very best treatments from around the world.
Le Poshe By Sparsa:In a quiet area away from the bustle of the city, Le-Poshe by Sparsa is an oasis of pure joy, pleasure, and tranquility. With 77 warm and comfortable rooms and luxury infused into every space, Le-Poshe provides the ultimate experience. The hotel also has a revolutionary spa, fitness center as well as a kids' club.
5. Coorg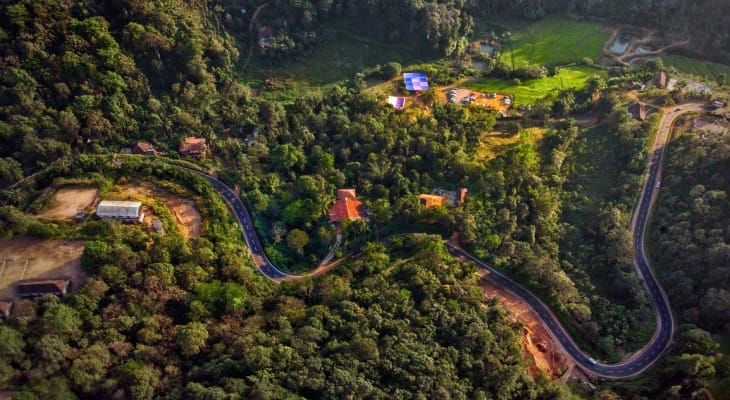 It is located along the western ghats and this coffee-producing hill station is famous for its breathtaking landscape and lavishness. In the popular press for its role as the Scotland of India, Coorg lives up to its title with an intriguing blend of luxury, history, and adventure, as well as mouth-watering food. With amazing mountains, the cascade of falling waters, and the stunning view of the fauna and flora, the place is an ideal holiday spot for those looking for an escape from their chaotic life.
Best time to Visit: Between March to June, you can take an enjoyable trip to Coorg. The winter months are the ideal time to visit Coorg. It starts at the beginning of December and continues through February. The temperature is constant and therefore it remains moderately cold.
Places to stay in Coorg
Bird of Paradise Homestay: Bird of Paradise is one homestay located in Coorg that you should not miss. Everything surrounding the residence is ideal to lift your spirits. If you look beyond the enormous bungalows, you'll discover that there's a treehouse, massive sitting areas, and large leisure facilities that can outdo the amenities offered by a top resort every day.
Ambatty Green Resorts: It's the perfect place to relax your soul and mind away from the and bustle of your daily routine. Whatever your interests, whether you're an avid athlete or romantic person planning a romantic vacation with your beloved The resort has something for all. Enjoy luxury and leisure amid the beauty of the natural world at this stunning resort.
27trees Homestay: The words dreamy and cozy are phrases that come to mind as soon as you look at the wooden cottages in 27trees. The perfect place to stay in Coorg hidden in the hills of Brahmagiri. Four suites with bathrooms comparable to the others as well as a private garden are included in the offer.
Porcupine Castle: It is situated on top of a 300-acre coffee farm. This affordable hotel located in Coorg is ideal for honeymooners. The tranquility and peace of the area are breathtaking and the scent of coffee seems to be much more welcoming. Porcupine Castle heartily welcomes the guests to the lush green landscapes of the most beautiful hotel in Coorg.
6. Wayanad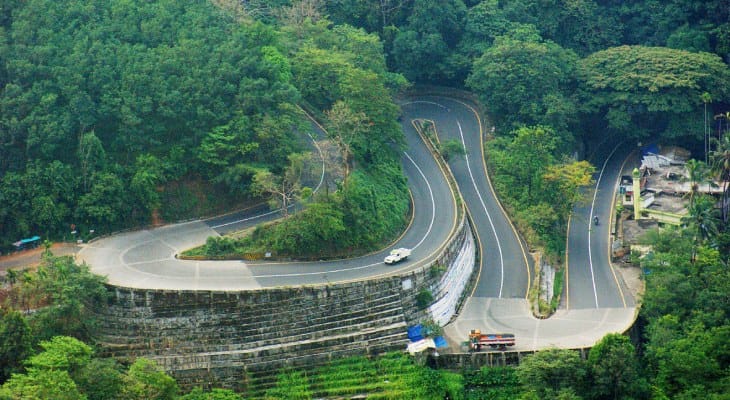 While looking for low budget tourist places in South India, Wayanad is the perfect place to escape the scorching heat in North India. It's not just the cool temperatures but within it, it also has unspoiled woods, misty mountains, and extensive plants. Sometimes referred to as the spice garden of India. The green orchards with distinct spices provide this area with an aroma that is further enhanced by the scent of coffee plantations as well as the nutrition of organic vegetables and fruits and paddy fields.
Best time to Visit: The temperature in Wayanad is mostly constant throughout the year. However, the ideal season to travel to Wayanad is between October and May.
Places to stay in Wayanad-
The Four Seasons Homestay: As one of the top homestays in Wayanad, Four Seasons is well-known for its warm hospitality, which combines the comfort of a hotel at affordable prices. The hotel is situated close to the Soochipara Falls and equipped with gardens, wifi, balconies, and a remarkable rooms service. The rental of cars and bicycles services are provided at the hotel.
Green Mount Cottage: Green Mount Cottage aims to give guests a personal experience with host-guest interaction. Luxury rooms overlook magnificent Chembra Peak and let you enjoy breathtaking views each day. The cottage has a variety of facilities, such as car rental, Ayurveda treatments, plantation visits, and guided tours.
George's Cottage: Wayanad George's Cottage is situated on a gorgeous 4.5-acre plantation located in Batali, a village. Its rustic style and comfort are sure that your stay will be memorable. Each cottage is well equipped with a bedroom as well as a kitchen.
Enteveedu Homestay: Enteveedu Homestay is among the most luxurious homestays that can be found in Wayanad. The rooms are well furnished with modern features like WiFi and TV. You also get to unwind in a common lounge. In addition to a playground for kids, the homestay also serves Asian or vegetarian breakfasts and lunch.
7. Pondicherry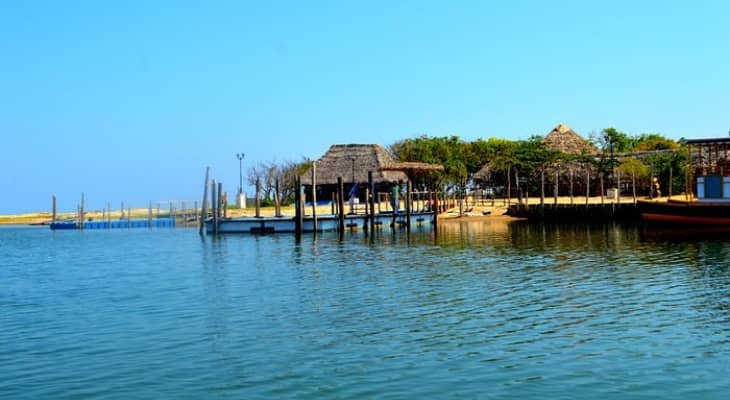 The French capital city of India is sure to make you feel as if you're somewhere else and not in India when you visit spots such as Rock Beach, Pondicherry Beach Serenity, or the Botanical Gardens. The best way to experience Pondicherry, in the same way, is to go to Auroville along with Sri Aurobindo Ashram where people from all over the world gather to find spirituality through Yoga and Meditation. Pondicherry is one such place that never fails to impress you with its distinct style. Numerous eateries and cafes are serving excellent French food, as well as mouth-watering international cuisines too.
Best time to visit: The ideal time to plan your trip for Pondicherry is during the winter months between November and March.
Places to stay in Pondicherry
Aadhaar Guesthouse: If you're looking for peace and want to get away from the bustle of the city, the Aadhaar Guest House is the perfect place to be in Pondicherry. With a warm and welcoming atmosphere, it is a place of tranquility that is shared by travelers from every walk of life. The place is equipped with a gorgeous rooftop where guests can relax.
Ram Guest House: The gorgeous French touch Ram Guest House has all the facilities needed for a comfortable stay. The property is situated in the vicinity of Pondicherry and close to Sacred Heart Cathedral. Ram Guest House is regarded as the most relaxing guest House in Pondicherry and a very popular one among tourists.
Coramandal Heritage: The Coramandal Heritage Hotel is a cozy and warm spot to stay for visitors. The rooms are reminiscent of the past, furnished with dark wood, and floors adorned with tiles. If you choose to get out of your hotel room and explore the area, it's a short walk away from the Aurobindo Ashram is just a five-minute walk away.
Lotus Bay View: The hotel redefines the definition of luxury. The rooms display modern-day luxury and state-of-the-art amenities. The hotel even features a private balcony, where you can unwind with an iced tea at night. The hotel is located just a few feet from Rock Beach. Enjoy the cool ocean breeze calm you while you relax in the facilities offered.
8. Mysore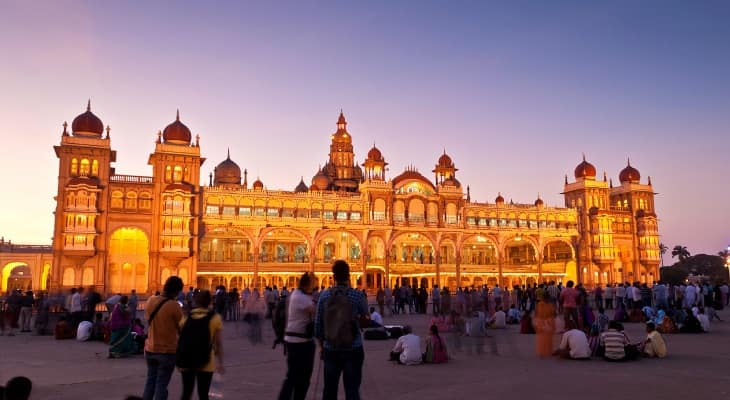 Originally referred to as Mysuru, the city is revered throughout the nation for its stunning monuments and buildings as well as its vibrant imperial past. Mysuru is also a growing manufacturing center that produces high-end incense as well as sandalwood, and silk. The City of Palaces has a variety of sites within the city. The most important palace in Mysore city is Ambavilas Palace which is also one of the most popular tourist attractions in the region.
Best time to visit: The most suitable timing to go to Mysore is during the monsoons and winter months of July through February. The seasons are pleasant in a refreshing way from the scorching summer heat.
Places to stay in Mysore
Golden Landmark Resort: The Golden Landmark Resort is one of the top accommodations in Mysore for couples and families. It's budget-friendly and is close to all of the popular tourist destinations within the city. There's a spa within the resort for those who want to indulge themselves in the benefits of an Ayurvedic massage. The resort has club rooms and villas that are ideal for guests.
Green Lotus House: Green Lotus House is conveniently located with market locations, ATMs, bus stand as well as tourist destinations such as Mysore Palace is at the stone of a distance. The renowned homestay located in Mysore Gokulam is a two-bedroom apartment that is fully serviced and decorated with minimalistic style antique furniture.
Lalitha Mahal Palace: It is the Lalitha Mahal Palace, which was constructed in 1931 by the Maharaja to accommodate special guests of the royal family as well as the Viceroy of India, is now one of the top luxury hotels in the nation. It is located in the middle of Mysore the city itself, this magnificent shining white structure, with its lush gardens, expansive terraces, and magnificent domes are the perfect spot to experience the royal style of living.
Royal Orchid Brindavan Garden: This is a retreat that is designed specifically for those who love nature. A dip in the swimming pool here, surrounded by a lush green canopy is the perfect way to unwind after a tiring day spent exploring the amazing sights of Mysore.
9. Munnar
Munnar is a stunning location in Kerala. Its beauty draws thousands of people each year. What makes Munnar more famous is the three rivers that run through the area, namely Mattupetti, Periavaru, and Nallathanni. A few of the local tourist attractions such as Salim Ali Bird Sanctuary and elusive Nilgiri Tahr draw visitors from all over the globe to this destination. Camping and trekking are among the most sought-after activities that should be considered when you visit Munnar.
Best time to visit: The ideal time when you can visit Munnar is between September and March due to the mild temperatures. The summer months are warm, but you can visit Munnar at this time of year.
Places to stay in Munnar
Karthika Residency: The property is in the middle of Munnar located in a wide area. A tranquil hillside that has beautiful surroundings, and is dotted with tropical plants, set in the lush mantel. Every room is a wonderful blend of elegance and style and provides peace and tranquility. The restaurant at this hotel offers a delicious tasting of delicious dishes from all regions of India especially Kerala's exotic food.
The Nest Resort: The resort, which is budget-friendly, is located in Chithirapuram, Munnar. The resort is placed near Chithirapuram Temple. The resort offers guide services and visits to the spice and tea plantations as well as a campfire, with gentle music and music playing at the top of the screen. It is well equipped with standard amenities.
Chandana Annexe:This Munnar-based Chandana Annex is economical and gives every tourist on his price with the best standard of service and cost control. The hotel has well-equipped meeting and conference rooms both outdoor and indoor. There are specific Ayurvedic treatments available to help rejuvenate guests. The hotel can also prepare campfire plans on request.
Chai Guest House: It's a charming and traditional spot to stay that is beloved by Indian Honeymooners for the opportunity to see the countryside surrounding. Walking behind the guesthouse in the plantation of cardamom is cost-free, which makes it a budget-friendly stay in Munnar.
10. Kanyakumari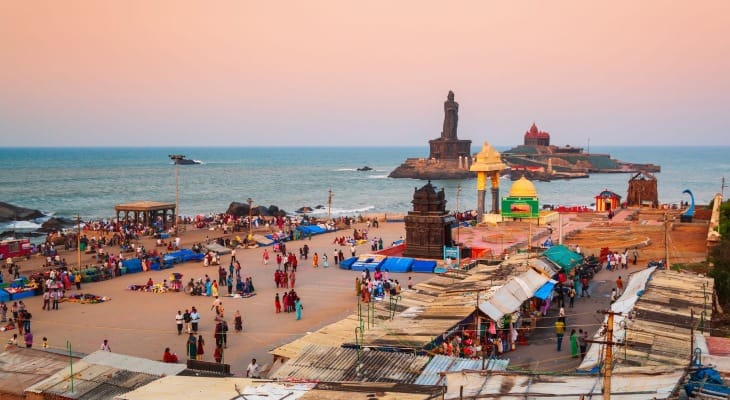 If you're looking for low budget tourist places in south India, why not think about visiting the southernmost tip of the country at Kanyakumari. The destination is home to some well-known temples, beaches, stunning sights, and historical tourism. Take advantage of the delicious South Indian cuisine at the eateries in town. In addition to the awe-inspiring geographical area, the city is also a well-known center for arts and culture and also a popular tourist destination.
Best time to Visit: The best season to travel to Kanyakumari is during the winter months, which runs from October through March. The temperature is mild and pleasant with a sunny sun to entertain you and makes it a great time to visit and enjoy outdoor activities.
Places to stay in Kanyakumari-
The Gopinivas Grand: The hotel's interiors are elegant that offer a sense of rest to the tired traveler. There are 70 spacious rooms with a sea and the guests can pick depending on their preferences. Other amenities include a Wi-Fi lounge, an auditorium in the open air as well as valet parking, and inside dining options. It's one of the top hotels in Kanyakumari close to sunrise point.
The Seashore Hotel: It is truly the definition of luxurious. It has 50 exquisitely designed rooms that are adored by everyone who travels. One of the major advantages of the hotel is its closeness to the beaches. The hotel also has a minibar as well as bathrooms with private baths. Enjoy delicious snacks and stimulating drinks to relax your mind.
Hotel Sea View: The rooms are elegant and sophisticated with elegant colors and modern fixtures. Perfect for enjoying the stunning scenery and a relaxing time. This hotel can be the ideal place to relax after a long trip. Other facilities that the hotel offers are restaurants, business spaces, and bars, which will please travelers. It is definitely one of the top hotels located in Kanyakumari beach.
Anantya Resorts and Hotels: One of the top premium hotels to stay at in Kanyakumari. The beachside accommodation has a wealth of amenities. The resort has a huge lake, which can be seen from all 21 villas. The guests can savor the various cuisines, which include Indian, Mexican, Italian, Continental, and Asian. It is a mysterious way to spend days in Kanyakumari.
Also Check, Best Places To Visit in India for Honeymoon