In India, the Ministry of Electronics and Information Technology (MeitY) announced a vital move on banning the 59 Chinese Apps stating the privacy concern. A day before third-round talks amid Indian and Chinese commanders settle the border deadlock, the Indian government has announced regarding 59 Chinese Apps Banned In India on 29 June 2020 such as TikTok, UC browser, Share it, We Chat, and many more apps. There have been furious concerns on features relating to data security and protecting the privacy of 130 crores Indians.
Without naming China, India said this massive move against the hostile Apps announced by the information technology ministry came after numerous complaints of stealing user data, which was reportedly being secretly transmitted to servers outside India. The government also said that this move would protect millions of Indian mobile and internet users' interests. The decision to ban 59 Chinese Apps in India is a targeted move to make sure safety and jurisdiction of Indian cyberspace. The decision to ban Chinese Apps was not a surprise as there was extensive conjecture that regulatory action administrative action against Chinese Apps with numerous of them implicated moving user data to servers in China.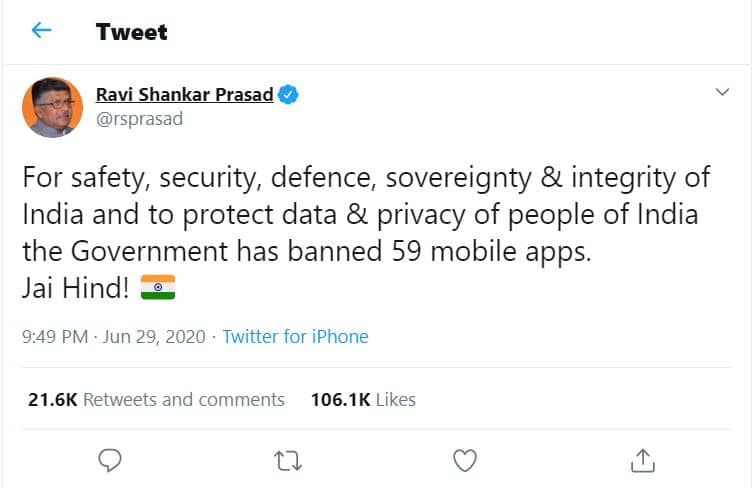 After the border clashes, India's first barrage to China shows that India has a wide range of vindictive choices. The evaluation is that this will notably destroy the various Chinese companies. In the case of TikTok and some of the other famous Apps, the investigation disclosed the camera. Microphone and full network access were composed so that Indian dominance could not confirm any data use or espionage. With access to an individual's camera and PCs, these Apps increased the risk of espionage as they could access other devices and servers that may be connected.
These estimates have been taken attempted since there is reliable information that these Chinese Apps are affianced in activities that are detrimental to and jurisdiction and honor India, defense of India, public order, and security of the state. A source said that previously there were concerns about misuse of TikTok for spreading sexual and hate content, comprising child porn; however, what led to the decision to ban was speculation on espionage.
List of 59 Chinese Apps Banned In India
TikTok
Shareit
Kwai
UC Browser
Baidu map
Shein
Clash of Kings
DU battery saver
Helo
Likee
YouCam makeup
Mi Community
CM Browers
Virus Cleaner
APUS Browser
ROMWE
Club Factory
Newsdog
Beutry Plus
WeChat
UC News
QQ Mail
Weibo
Xender
QQ Music
QQ Newsfeed
Bigo Live
SelfieCity
Mail Master
Parallel Space
Mi Video Call – Xiaomi
WeSync
ES File Explorer
Viva Video – QU Video Inc
Meitu
Vigo Video
New Video Status
DU Recorder
Vault- Hide
Cache Cleaner DU App studio
DU Cleaner
DU Browser
Hago Play With New Friends
Cam Scanner
Clean Master – Cheetah Mobile
Wonder Camera
Photo Wonder
QQ Player
We Meet
Sweet Selfie
Baidu Translate
Vmate
QQ International
QQ Security Center
QQ Launcher
U Video
V fly Status Video
Mobile Legends
DU Privacy
How This Massive Move Affect Indian Users?
Some of the Chinese Apps on the banned list are extensively famous among Indians. TikTok is one of the banned apps but has more than 100 million users in India. For most users, TikTok becomes the only source of income.
Apart from this, most of the banned apps such as UC news and others have offices and employees in Indian, and because of this ban, then scores of jobs could be at the spike. The other Chinese Apps in the blocked list, like Shareit, Bigo Live, Weibo, Club Factory, are also extremely famous amid Indian people.
Alternative of Chinese Banned Apps In India
TikTok, Vigo Video, Big Libe, Helo, U Video, Likee banned in India, and the alternative Indian Apps are Mitron, Bolo Indya, Roposo, Dubsmash.
We Meet, We Chat banned in India, and the alternative apps are Instagram, Facebook, Whatsapp.
Shareit, Es File Explorer, Xender banned in India, and the alternative apps are Send Anywhere, Dropbox, Google Drive, Files Go, Smart Share, Share All and Jio Switch
Baidu Translate Banned in India and the alternative apps are Hi Translate, Google Translate.
Hago Play banned in India, and the alternative apps is Houseparty.
Mobile legends banned in India and the alternative are Legends of Legends and Fortnite Battle Royale.
UC Browser, CM browser, APUS Browser, DC Browser banned in India, and the alternative apps are Google Chrome, Microsoft Edge, Opera, Mozilla Firefox, Jio Browser.
Baidu Map banned in India, and the alternative apps are Apple Maps, Google Maps.
Cam scanner banned in India, and the alternative apps are Adobe Scan, Photo Scan, Tap Scanner, Microsoft Office Lens
Club Factory, Shein, ROMW banned in India, and alternative apps are Amazon, Myntra, Flipkart, LimeRoad.
DU battery saver banned in India and the alternative apps are Charge Optimizer and Battery saver.
Newsdog, QQ Newsfeed, UC News banned in India, and alternative apps are Inshorts, Google News, Apple News.
Selfie City, You Cam Makeup, Meitu banned in India, and the alternative apps are Filter Camera, B612 Beauty.
ES File Explorer Virus Cleaner, Clean Master, banned in India, and there is no need to download any alternative app for cleaning viruses from your mobile phone. If you have any one of these App on your phone, then uninstall them.
How to Identify the Chinese App on Mobile Phone?
If you want to identify the Chinese App on your Smartphone, then there is an exclusive app named Replace it- this App will necessarily assist Indians to recognize the Chinese Apps installed on their devices. Replace it is a new abundance app available on the Google Play Store, which claims to precisely support Indian Prime Minister Narendra Modi's vision of Aatmnirbhar Bharat.
Also read, Elyments App – India's First Social Media Super App